________________________________________
For The Selena Magazine/Newspaper Collector:
This section of the collector's guide will probably prove to be the least helpful for Selena collectors. Why? Because there is no way that I can possibly lead you through all of The magazines that have Selena features. There are probably thousands of them across the world, I personally have come across magazines of Selena from as far away as Japan, Spain and Italy, which should give you an idea of how far her popularity has reached.
The first magazine that had Selena on the cover was TEJANO TIMES in 1990, this is what I would consider as the most sentimentally valuable for a fan, because this magazine coincided with the beginning of Selena's Tejano Queen Reign. Even if you are not able to get this magazine, there are still many out there that are really collectable to be able to obtain.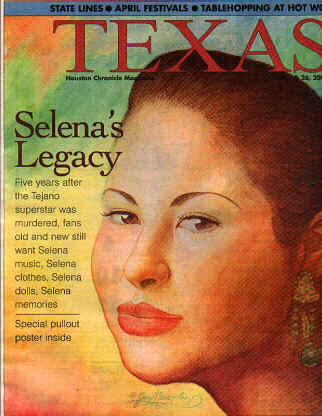 Several Newspapers and magazines continue to pay tribute to Selena, like the one above from 2000.
For example, 1992's MAS MAGAZINE had a feature cover and a 6 page on Selena. And 1994's Nuestra Gente, and Furia Musical both had great Selena issues before her death. Nuestra Gente featured a 3 page interview with Selena, with insightful responses to questions about her life and the future. While Furia Musical, was able to get Selena to pose for the first time in a Bikini in the piers of Alcapulco.
Posthumously, Selena received great magazine tributes. Such as the 1 million copy selling People Tribute Magazine, which was entirely about Selena and become a hot collectors item as soon as it went out of print. In 2000, Estylo released a 32 page magazine tribute to her, upon the release, the number of subscribers skyrocketed.
VERY IMPORTANT: Fans should always remember not to believe everything they read, while some info on Selena is true, there are some things that ARE NOT. For example this alleged "secret", while there was very little Circumstantial evidence (if you want to call it that in the first place) to support it, there was lots of ROCK SOLID evidence to prove it false. However, this evidence did not emerge very well, because a lot of the press wanted to maintain the mystery in order to sell more magazines when stories were written about it. There are also some magazines that contain those photographs. So please: READ WITH CAUTION!
For most fans, the newspapers of Selena are very collectable. Especially issues of the Corpus Christi Caller- Times, Selena's home town paper. In the first week April 0f 1995 this newspaper pressed over 100 stories of Selena to pay tribute to her and they did specials on her every year on March 31. This issues were packed with Selena stories, and info on the tragedy. On April 1, 1995, Selena was on the front page of the New York Times as well as the Los Angeles Times. There are probably 100's and 100's of Selena newspapers out there, but just like the magazines you must read some with caution!.
________________________________________
Magazine/Newspaper Collectors Materials:
Top 10 Selena Magazine Checklist w/ empty spaces for write ins....
Top 5 Selena Newspaper Check List w/ empty spaces for write ins...
Check out this site's Magazine Gallery for selected magazine photos...
________________________________________