--------------------------------------------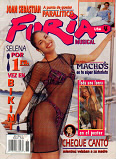 "Furia Musical" (1994)
Ano 2, No. 15/July 20,1994/$1.75
COVER: "Selena: Por Primera Vez En Bikini"
STORY: "Selena y Las Curvas De Su Vida" (4 PAGE SPREAD)
Story Summary: This interview has Selena answering questions about her marriage, why she thinks she was named Queen Of Tejano, How was it like to work with Marlon Brando and if she believed in God. There is also a short Bio of Selena after the article, chronicling Selena's accomplishments and Discography.
Blurb: Selena is also on The Hot Chart Lists, with a picture of her on Page 43.
--------------------------------------------
Back To Selena Magazine Gallery
--------------------------------------------