--------------------------------------------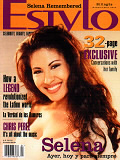 "Estylo"
Vol 4, Issue 2/ March/April 2000/$2.95
COVER: "Selena: Ayer, Hoy y Para Siempre"
STORY: "Selena: The Beautiful White Rose Of Texas" et al (32 PAGES)
Story Summary: This extraordinary English/Spanish Tribute is filled with Selena Photographs, and interviews/updates on all of Selena's family. A Tour Of Corpus Christi given by Selena's parents, and also Selena Etc Today. There is also a story about "Selena Forever", and the Selena Museum, with a feature on Selena's Houston Astrodome Concert and her Grammy Win. Lot's more, this is one of thee best Selena Tributes.
--------------------------------------------
Back To Selena Magazine Gallery
--------------------------------------------