--------------------------------------------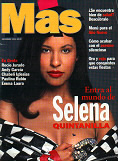 "Mas" Magazine
December, 1992/ $2.00
COVER: "Entra al mundo de Selena Quintanilla"
STORY: "Calidad y Sensualidad, Selena Quintanilla" (6 PAGE SPREAD)
Story Summary: The article focuses on the success that Selena has lived at this point of her life. She speaks about her early childhood beginnings, and there is mentioning of her future crossover album. The article also covers, Selena's marriage and family relationships. And there is also coverage of her first three years with EMI Latin and her albums, "Selena", "16 Super Exitos Originales" and "Ven Conmigo".
--------------------------------------------
Back To Selena Magazine Gallery
--------------------------------------------