--------------------------------------------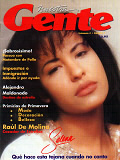 "Nuestra Gente" (1994)
Vol.2 - No.1/March-April 1994/$2.95
COVER: "Selena:Que Hace Esta Tejana Cuando No Canta?"
STORY: "Selena Quintanilla:Que Hace Cuando No Canta"
Story Summary: In This Interview formatted article, Selena talks about her childhood years, her fears about the upcoming English album and the loss of privacy it will bring, as well as her most memorable concert, which was in Mexico in front of 100,000 people. She also says that some people have betrayed her in some economic business.
--------------------------------------------
Back To Selena Magazine Gallery
--------------------------------------------