______________________________
Jose Behar finds the next Gloria Estefan:
That night in early 1989, Jose Behar, president of the recently opened EMI Latin, was in attendance at the Tejano Music Awards. Behar was previously with Sony Music but broke off to start his own latin division with Captiol Records. Jose Behar promised Captiol Records that he would find them the next Gloria Estefan. He did that night. Selena came on stage just as he was leaving the building, and her voice caught his ear...
Upon completion of her amazing performance, Behar had to meet Selena that same night. As he went back stage, he saw Selena signing autographs. He introduced him self to her as president of Captiol/EMI Latin and she responded, "Yeah, Right!". He insisted that it was true, and that he was very interested in speaking with her manager to discuss a deal. "Are Ya'll for real?" was the only thing she could say.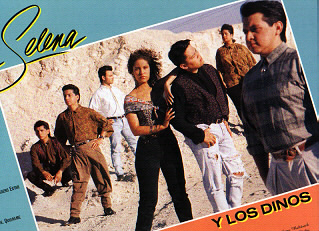 Above: Selena Y Los Dinos in 1989, the same year Selena signed on with EMI Latin for a world-wide career.
From Left: Pete Astudillo (Back Up Vocals); Joe Ojeda (Keyboards); Roger Garcia (Guitar); Selena; A.B (Bass);
Suzette (Drums) and Ricky Vela (Keyboards).
Jose spoke with Selena's father, they all had breakfast the next day and Selena now had a deal with EMI Latin Records which would bring her much more success than she ever could imagine.
Selena was signed on by Jose for the worldwide market, he was looking for a "bi-cultural artist, someone who could appeal to both hispanics and anglo audiences...and there she was. We were all very excited", he said. Selena was going to become an international star, it was only a matter of time...
______________________________
Her Reign as The Queen Of Tex-Mex Begins :
Starting in 1989, Selena's career was going nowhere but up. Due to her success, it was obvious that she had shattered the male domination of Tejano Music and opened the doors for other female artists. Selena had gone from living "almost in the street" to becoming one of the most important figures in Tejano Music.
Since Selena was signed on to crossover into English, she cut three english tracks with K.C Porter. These songs, "Only Love", "Where Did The Feeling Go?" and "Is It The Beat?" would be the first English Pop singles that she would make for EMI.
The Coca-Cola company enlisted Selena as one of their spokespeople in 1989, and they would remain with her until 1995. Selena and Coca-Cola signed a 6 figure, 5 year deal, to promote their products in the Tejano Market. Obviously this was a real big honor, only two Tejano Artists were signed on by Coca-Cola, Selena being one of them.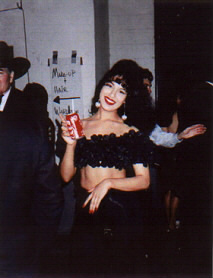 Above: Selena at The 1990 Tejano Music Awards.
She now had Coca-Cola and her sponser and EMI Latin as her label.
She accepted Female Artist of The Year honors for her EMI debut that night...
Selena Y Los Dinos' first EMI Latin Album, entitled "Selena" was released in October of 1989. Containing 10 tracks, including: "Suki Yaki", "Besitos" and "Tu Eres". This was shortly followed by two compilation's in 1990, "16 Super Exitos Originales" and "Personal Best" on the CBS Discos Label.
But it was not until later that same year that Selena would finally become the most popular Tejano Artist in history. "Ven Conmigo" was released in 1990, containing such classics as "Baila Esta Cumbia" and the title track. This album was the VERY FIRST Tejano album ever to hit Gold Record Status. Not only that, "Ven Conmigo" and "Baila Esta Cumbia" quickly climbed the Billboard Regional Mexican Charts with "Ven Conmigo" peaking at #1.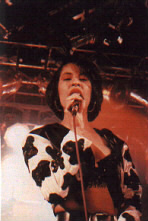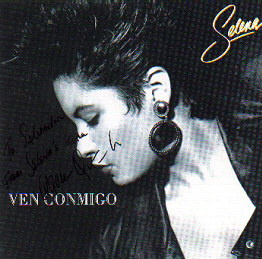 Above l.: Selena performs in 1990.
Above r.: She was the Queen Of Tejano Music upon the release of her album "Ven Conmigo"
Selena now not only became the most popular Tejano Female artist, but the most popular Tejano Artist in general. She had become, The Queen Of Tex-Mex.
Her acceptance of the title was very humble. In an interview she was asked, "Why does she think she was named The Queen Of Tex-Mex?". She responded, "I honestly do not know. It's really an honor that the fans gave me that, its just overwhelming for me..."
______________________________
And She Continued To Break Barriers and Records:
Selena was very well accepted in Texas, she was the biggest thing to hit Tejano, since ever. She probably could not imagine when she was starting out she would be where she was in 1991. With changes that Selena the artist underwent so did her band. Some changes to her band members, included a new guitarist named Chirs Perez. Who was a member of Shelly Lares' band up until 1990 when he joined Los Dinos.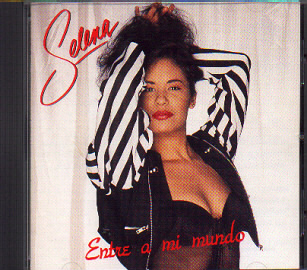 Above: Selena's "Entre A Mi Mundo" (Enter My World) became the best-selling Tejano album in history,
becoming the first to be certified "Double Platinum"
In 1992, EMI Latin released Selena's next CD "Entre A Mi Mundo" as a solo artist. The reason EMI Latin decided to do this was for Selena to have more appeal to non-hispanic audiences when she does cross over. Selena still credited Los Dinos on all of her CD credits. This album held some of her biggest hits including "La Carcacha", "Missing My Baby" and her signature song "Como La Flor".
Selena broke another record with her album "Entre A Mi Mundo". In a short time, it sold more than 300,000 copies. Selena became the first Tejano Artist ever to sell that many records and the first CD of it's kind to be certified Double Platinum. The album also demonstrated Selena's versatility. On the same disc there was Tejano, ("Las Cadenas"), Mariachi ("Que Creias?"), English Pop ("Missing My Baby"), and Spanish Rock ("Amame"). Even though Selena was classified as a Tejano Artist, she was very good at interpreting all types of music.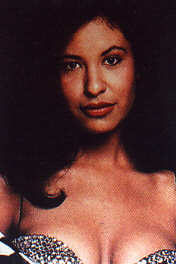 Above: Selena poses at a photo shoot for "Mas" Magazine.
One of her first full-cover magazines which was published in 1992.
Now that Selena was big in Texas, EMI Latin wanted nothing more at the time than to have her become a hit in Mexico. It was said that if you made it in Mexico, you made it. Unfortunatly, once again the odds were against Selena. The fact that she could not speak Spanish very good was very harmful to her. In Mexico, no one accepts Mexican-American artists, especially one that is female and one that does not speak Spanish. But Selena endured all and opened the doors for other Tejano Artists to make it in Mexico...
______________________________
Selena: The American Dream Page Two...
Selena: The American Dream Page Four...
______________________________
NOTE: All information above was taken from press materials, and is believed to be accurate. If you see something that you know is NOT accurate, please email the correct information to the webmaster. Thank You.