______________________________
A New Beginning For Selena:
Now that the Quintanilla's lost everything, Abraham had to find out what to do. He told his wife that the only other thing he knew how to do was in the music business and they should try to pursue it in order to survive. Now, Selena y Los Dinos was a family business. Many things stood against Selena, first she was too young and secondly she was female. At that time it was said that females could not make it in the Tejano Music World because it was dominated by men.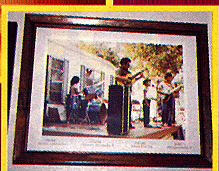 Above: Selena (middle f.) performs with her Dinos as she began her career.
Her dad is also playing the guitar (near l.).
According to Selena's mother, Marcela Quintanilla, her first performance in public was at a local dance hall called "The Stardust", in where she and her band opened for La Mafia. While she was definatley on her way up it was obvious that all the obstacles would make it a long and slow way up. Selena said in 1994 that they "...were laughed at, my father was told we would never make it."
Selena and her family now lived basically in a tour bus. They would travel all over Texas to see what gigs they could get. She began by singing at Quincaneras, Weddings and small parties. The first known recordings of Selena were on a cassette recorder, and was recorded by Mr. Johnny Herrera. Shortly after, Selena recorded her first album at the age of 6. And at the age of 9, which was the same time the resturant went under, she began traveling to make a living.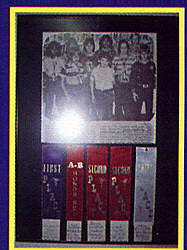 Above: When at School Selena was a very good student.
These are some of her badges that she won in spelling bees and things of that nature.
Selena is also pictured with her class above (far l.)
Selena lost a lot of school, especially on Fridays and Mondays because of the constant traveling on the weekends. Her father was even threatened by the school to be reported to Child Services for making his kids work. Selena complete Middle School at West Oso Jr High School. From her freshman year on, she would do her studies through a correspondence course program which was based out of Chicago.
______________________________
Selena y Los Dinos Begin to take off:
In 1984, Selena recorded an album with Freddie Records entitled: "Selena y Los Dinos". Which started their slow climb to the top of the Tejano Music World. In the following years Selena cut almost a half dozen albums with regional Texas based record labels. These albums, "Alpha" and "Munequito De Trapo"(1986), "And The Winner Is..." (1987), "Dulce Amor" (1986), and "Preciosa" (1988) were the albums that set the foundation for Selena's future reign as The Queen Of Tejano Music.

Above: Selena's 1984 Freddie Records Album "Selena y Los Dinos" which was re-released in 1995
as "Mis Primeras Grabaciones"
This LP is commonly listed as the first album in Selena's discography.
Below: A 13 year old Selena (middle) with her band.
In the beginning, when money was scarce Publicity Photos were taken in the family garage.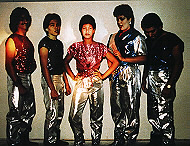 In 1986 Selena won her very first Tejano Music Award (the genre's Grammy) for Best Female Vocalist of the Year, a task she would accomplish for the next 10 years. And her fifth single entitled "Oh, Mama" received serious airplay around Texas and became #1 in the Houston Area. Another single "A Million To One" fared very well as well, as it established "Selena y Los Dinos" as important figures in the Tejano world.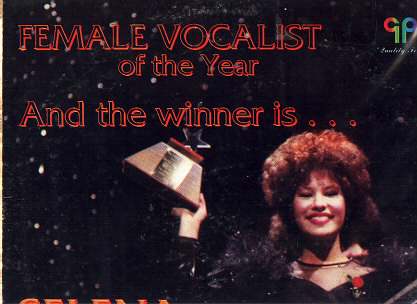 Above: Selena's first post-Tejano Music Award Album was appropriately titled "And The Winner Is" (1987)
This album features Selena's first Billboard Single "La Bamba"
In 1987, Selena received her first National Exposure, as her single "La Bamba" scaled the Billboard Charts. Selena was now among the nationally acclaimed artists. That same year, she would earn her first Female Entertainer of the Year Tejano Music Award which she would earn for the next 9 years.
Above: Selena performs in 1988. Little did she know then that her career would take a major
turn that same year...
In 1988, Selena was once again nomminated for more Tejano Music Awards, that night a man was in the audience that would change Selena's career forever. This man was leaving the Convention Center where the awards were being held when a beautiful voice of a performer on stage caught his ear. The crowd went wild as a beautiful young woman named Selena took the stage, this was something he had to see...
______________________________
Selena: The American Dream Page One...
Selena: The American Dream Page Three...
______________________________
NOTE: All information above was taken from press materials, and is believed to be accurate. If you see something that you know is NOT accurate, please email the correct information to the webmaster. Thank You.