______________________________
Selena: The American Dream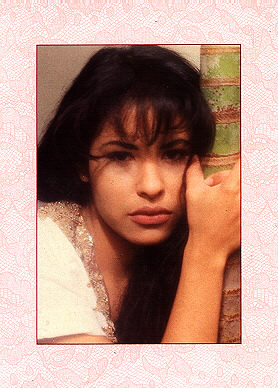 In March 31, of 1995 the entire world was blown away by the tragic news...a young woman had died at the age of only 23. The fact that a woman's life would end at such a young age is terrible, but this was so much worse. It was worse because the innocent victim in this horrible crime was Selena Quintanilla Perez: The Queen Of Tejano Music. A women who was admired and followed by thousands of fans in the Latin World and who would have soon been followed by millions more in the English Pop world had she lived to fulfill her crossover dream, her American Dream. To this day, almost 6 years since that terrible day, she is still not forgotten by the people who love her. And because of this, testaments of fan's admirations toward her continue to be created, spoken, and written...
______________________________
Abraham's Beginning:
To begin Selena's life story you would have to go to the time before she was born, to the 60's. Selena's father, Abraham Quintanilla Jr. had his band called "Los Dinos". Back then Los Dinos tried to make it by singing English music, but racism at that time was too great to be able to surpass. Los Dinos were unable to get gigs in American Bars and small venues simply because of their race.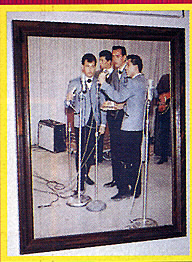 Above: Abraham Quintanilla Jr. (Selena's Father), and his
original Dinos in the 1960's
So now, they turned to their own people, latinos. They sang English oldies to a latin crowd which were not accepted at all. Hispanics in Texas wanted to hear Tejano Music. Abraham knew that he had to play Tejano music because that is who he himself was. That's when he and his band cut a few Spanish albums on the Falcon Label when the group was together. Selena's father now learned something that he would teach to his daughter when her music career would begin.
______________________________
A Humble Lake Jackson Beginning:
Had Selena been born a boy as expected that April 16, 1971 she would have been Marc Anthony Quintanilla. Instead, one of the future's most important latin artist was born: Selena Quintanilla.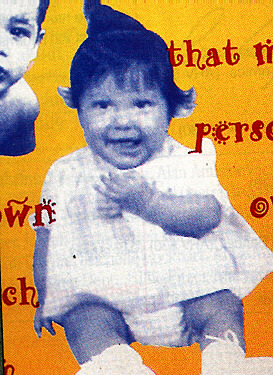 Above: Selena when she was a baby.
By the time Selena was born, Selena's father no longer had his band. He worked at a Texas DOW Chemical Plant and was now married to Marcela and had two other children: A.B and Suzette. Even though he was now making a good living for his family, he still loved the music. Which was his real passion.
When Selena was 6 years old, Abraham was teaching A.B how to play the guitar. Selena was jealous of the attention that A.B was getting so she picked up a microphone and began to sing along with the music her brother made. Her father was amazed at how perfect her voice was when she sang. And as he heard his daughter singing away to a song, he saw in his head a way to get back into the music business.
He went a bought used instruments to start a family band, to be kind of a family hobby. Selena would sing, A.B would play the bass and one of Selena's cousin's was chosen to play the drums. However, her cousin had to move away, so that position was left open. That's when Abraham got the idea to have his daughter Suzette play the drums. Suzette was extremely hesitant in having to play the drums since it was not that feminine. Adding to that, all the kids did not want to play. They all simply did not like having to spend all their time indoors doing something that was not there business.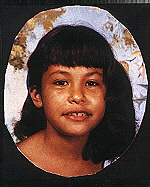 Above: Selena when she was 6 years of age. While still young in age, her voice demonstrated incredible maturity.
They needed to practice 15 min. a day, but to the kids it was a terrible eternity. Selena said on "Cristina" in 1994, that is was like "Pero Papi, queremos jugar" ("But Dad, we want to go play"). It was obvious that neither Selena nor her siblings wanted any part of the music world. As a matter a fact, Selena wanted to be a designer. Selena's father was quickly interviewed that same day in 1994 regarding this issue.
Cristina told him that he was the dreamer about the music, not his children. He responded by saying that it was true but that he can guarantee that now all of his kids would thank him for being strict with them and that now they are finding success in this career. Selena without any words strongly agreed by simply nodding her head.
Now that the core of Selena Y Los Dinos was formed, little did the family know that the band would soon be the family's way of survival...
______________________________
The Opening of Papa Gallos:
Abraham was simply not happy with his job at the Chemical plant, he would go home and the first thing he would do was think of the music which was the thing he loved the most. He ended his job at DOW in order to come closer to his dream. He put all of his finances into the opening of a Mexican Food Resturant called "Papa Gallos".
He had this idea because he realized that Mexican food is really popular in that area, yet no Mexican Restaurant's were around there. While that was smart thinking and a way to make a good living he did have a secondary plan in mind. That he could put a small platform and dance floor for live music performances done by Selena Y Los Dinos.
Above: Selena, her sister Suzette on Drums, and A.B her brother perform,
in the beginning of their career.
By this time, Selena's father wanted to teach her to sing Spanish music. Something she apparently objected to, since a.) she did not like Spanish music and b.) she did not speak Spanish! But Selena's father told her that when he was in the original Los Dinos, they were not accepted because they were not being who they actually were. He had learned that she should be proud of her Mexican roots, including the music.
Selena now learned to sing Spanish songs phonetically, until she actually started to learn the language in her late teens...
The Quintanilla's restaurant went bankrupt about a year after its opening, because of the Texas Oil Shortage that occurred which drained the economy and ruined small businesses. Since the Quintanilla's put all of their money into the restaurant they now had nothing...
______________________________
Selena: The American Dream Page Two...
______________________________
NOTE: All information above was taken from press materials, and is believed to be accurate. If you see something that you know is NOT accurate, please email the correct information to the webmaster. Thank You.