_________________________________
Selena Triumphs in Central and South America:
In 1992, Selena's EMI Mexico debut album "Baila Esta Cumbia" was released. While the album contained 12 tracks that were compiled from previously released U.S material, for Mexico it was fresh new music. It was this same year that EMI Latin arranged a press conference in Mexico for Selena. Everyone was nervous that day since Selena could not speak Spanish 100% and Mexico simply does not like Mexican-American signers. Should Selena mess up, the press would eat her up alive. Selena had more confidence than the others, she walked out into the press conference room and greeted all the reporters with a hug and a kiss on the cheek. While Selena did mess up a lot with her Spanish when she was answering questions, the press took a liking to her. "She had them in the palm of her hand", her father said.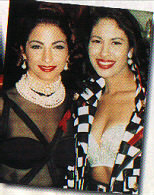 Above: Selena posing with Gloria Estefan in the 1992 "Premio Lo Nuestro" awards.
That same year Selena would find incredible success waiting for her in Mexico.
The song's Baila Esta Cumbia, Ven Conmigo, La Carcacha and Como La Flor became hits in Mexico, and the album turned Gold which was a feat that no other Tejano Artist ever was able to accomplish in Mexico...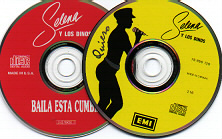 Above: The CDs "Baila Esta Cumbia" and "Quiero..." allowed Selena
to dominate the Tejano Music scene in Mexico starting in 1992.
Selena's most memorable concert happened in 1992 as well, in Nuestra Gente Magazine (1994), she said, "The most memorable [performance] was the first time we played in Mexico. It was astonishing. It was in Monterrey, Nuevo Leon and there were 100,000 people. It was a sea of people. The fans waved their hands in the air like in the videos. Seeing people do that to the rhythm of your music is incredible. Everyone knew the lyrics to "Como La Flor".
Selena soon followed up her debut album with "Quiero...", another compilation that was released in 1993. This album once again turned into instant gold, and Selena's music was now reaching the airwaves in Central and South America where she was just as popular. Selena now dominated the Tejano scene in Mexico, and soon after, other Tejano acts where now coming in and finding success in Mexico.
_________________________________
Selena Quintanilla Perez: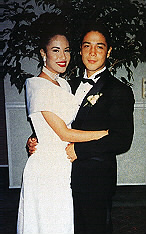 Above: Selena and her husband Chirs Perez
at Suzette's wedding in 1993.
On April 2, 1992, Selena married her guitarist Chris Perez at the age of 20, against the objections of her parents. The Quintanilla's were very frim believers in the Christian Faith and teachings, and they took marriage seriously. Her mother told Selena that marriage is not a game, that it is a very important commitment in the eyes of God. And that when you get married it's forever. Selena's father also objected to the marriage because he thought that his daughter was too young, and maybe down the line she would meet someone else that they love more. But he said that Chris himself was what made him change his mind. He was a very kind person, and he soon felt as if he was his son as well.
Selena Quintanilla Perez stayed happily married, and was going to start a family at the time of her death in 1995.
_________________________________
Selena would become a world-wide success:
1993 would bring Selena great success...
First on February of 1993, Selena gave a free concert performance in Corpus Christi's Memorial Coliseum. That night she would record her album "Live" which once again received great success. The sales of the album were skyrocketing, and she still was not a her professional peak. Multiple award nominations were being bestowed upon her for "Live", including her first Grammy Award Nomination.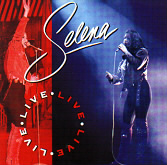 Above: Selena's "Live" (1993) would achieve great success and a Grammy Nomination
Selena would also win her first Premio Lo Nuestro (Latin Music's Grammy at the time), in 1993. She was nominated for Best Female Artist of The Year, Best Song Of The Year ("Como La Flor") and Best Album of The Year ("Entre A Mi Mundo"). She won all three of them. Which was very surprising to her since she was very certain that her chances where slim because she was up against so many of the most famous latin artists that have been known for many more years than she was.
1993 would also bring Selena one of the happiest moments of her life. She signed a world-wide contract with SBK Records to finally begin production on her crossover album. SBK, a sister label to EMI Latin, signed Selena as the third Latin star who was being launched into World-Wide Success. The process for doing an English language album was a very hard transition for Selena, she explained in 1994 that "making a Tejano Album usually takes about 1 week...But with an English album it takes 6 months to a year..."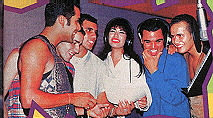 Above: Selena and The Barrio Boyzz recording "Dondequiera Que Estes" in 1993.
That year, Selena was paired with The Barrio Boyzz to do a duet to be able to have Selena become better known in New York, where Tejano music was not yet popular. Their song "Donde Quiera Que Estes", went to #1 on Billboard and Selena was now more widely known in the U.S.
Selena had accomplished so much, but the best year of her professional life was yet to come...
_________________________________
Selena: The American Dream Page Three...
Selena: The American Dream Page Five...
_________________________________
NOTE: All information above was taken from press materials, and is believed to be accurate. If you see something that you know is NOT accurate, please email the correct information to the webmaster. Thank You.