________________________________________
For The Selena LP (Early Albums) Collector:
All of Selena's records from 1984 to 1988 were released on LP and Cassette Only. LP's are the rarest of the rare as they have all gone out of print. Selena began recording LPs in 1984, with the album "Selena y Los Dinos", after that all of her albums were released on LP up to "Baila Esta Cumbia", with the exception of "Entre A Mi Mundo".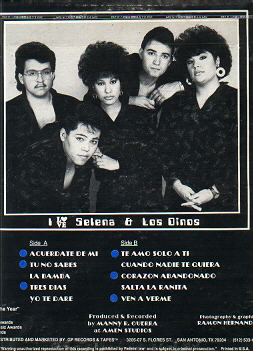 Above L.: Selena y Los Dinos' "16 Super Exitos Originales" LP Album from 1990.
Above R.: The back cover of Selena y Los Dinos' "And The Winner Is..." LP Album from 1987, both records are extremely rare.
For those who do not exactly know what an L.P is, it is a 12" Long Playing Record which were the dominate music format until the cassette appeared. The cassette became more popular because of its endurance and the fact that it does not scratch like the vinyl LP.
Legitimate Selena Records, were pressed on the following labels: Freddie Records, Cara Records, GP Records, RP Records, EMI Mexico and EMI Latin.
One of the rarest Selena LP's is "Munequito De Trapo" on GP Records in 1986. This LP was pressed as a DJ Promo, with NO COVER SLEEVE. However, the cassette does have a cover. Check out this site's Discography Section to see the picture of it. The last Selena LP that was pressed was, to my knowledge, "Baila Esta Cumbia" on EMI Mexico in 1992, this rare LP features the same cover art as the CD, but it's surrounded with black and boarded with the multiple color edge like the CD.
I have not heard of any Selena LP being bootlegged. But in case there were, the same rule applies as a CD. The cover art ink job must be dark, solid and rich since a bootleg cover is faint and cheap.
Important Note about these albums on Cassette format: Over the internet I've seen some cassettes of Alpha, Munequito De Trapo and Dulce Amor being sold which were printed on a Rangel and/or Big Star Records. These are NOT the original albums. I am not sure about the exact story of these labels, but these three albums were originally pressed in 1986, and 1988 on GP and RP Records, not 1989 as the cassette states. I thought this was important for those fans who are looking for the originals.
This section of the collectors guide will soon feature information of Selena 45RPM Records. Please check back soon for that!!
________________________________________
Collector Materials/Checklists:
The Selena Album Collectors Check List, also lists all of the Selena LPs that were pressed.
Check out the Selena Discography Section for pictures of many Selena LPs.
________________________________________
Back To Selena Collector's Guide
________________________________________