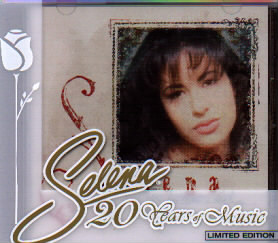 Buy This CD. Hurry, it is a Limited Edition!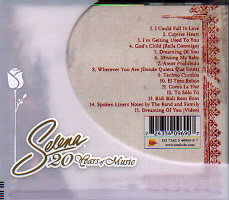 "Dreaming Of You"
Tracklistings: 1.) I Could Fall In Love 2.) Captive Heart 3.) I'm Getting Used To You 4.) God's Child 5.)Dreaming Of You 6.) Missing My Baby (1995 Mix) 7.) Amor Prohibido [1995 Enhanced Version] 8.)Donde Quiera Que Estes (English/Spanish Version) 9.) Techno Cumbia (1995 Mix) 10.) El Toro Relajo 11.) Como La Flor [1995 Enhanced Version] 12.) Tu Solo Tu 13.) Bidi Bidi Bom Bom [1995 Mix] 14.) Spoken Liner Notes by the Band and Family 15.) Dreaming Of You [Video]
Background: The album that Selena waited years to complete never was completed. She began recording this highly anticipated album at the beginnings of 1995 and was only able to record 4 of the 13 R&B/Pop tunes that were originally slated to make the untitled album before she was murdered in March of 1995. Still, The Quntanilla's marched on with the project, and insisted on giving the new fans a glance at what kind of music brought Selena to this point in her career. So as fillers, they mixed and enhanced past hits and put them on the album. Also, two mariachi songs were released for the first time here. "Dreaming Of You" was released in 39 countries, and is the only Latin album to debut at the #1 spot on the Billboard Pop 200 Charts.
Review: I personally think that this album arguably tops Amor Prohibido, despite what most fans say. I've always preferred Selena's voice in English, it's almost as if she had more fun singing in her first language. In addition, the fact that she was eagerly anticipating getting this album done, released, and conquer the world market gave her more enthusiasm to give it her all.
I Could Fall In Love and the title track, show that Selena could easily do a slow song that really didn't require much power but then prove that she does have a voice to give a husky performance in Captive Heart. I'm Getting Used to You is definatley the most under appreciated of the four new tracks. It's really good, but I can see how the other three over shadowed it. I could only wonder what Selena would be doing in English today, I personally would have liked to hear her do some English rock since she did it in Spanish so perfectly.
A.B. enhanced Amor Prohibido, Techno Cumbia, Como La Flor, and Bidi Bidi Bom Bom for this album, giving them slight but noticeable differences from their original forms that came out a year before. I like all of these versions, with the exception of Bidi Bidi Bom Bom which just got to sounding too much like kiddie stuff.
Donde Queria Que Estes is re-done with Barrio Boyzz doing their parts in English. This is not as good as the original Spanish one that is available on "Ones". And another track that I think should be capitalized on is God's Child, a cool duet she did with David Byrne.
Tu Solo Tu, now a Selena favorite made it's debut on this CD and is yet another example of how Selena could alter her voice a little for any given situation. This is better than most of the other stuff that pro-mariachi singers have done. Toro Relajo is the best of the two Mariachis, Selena gives a powerful performance right from the beginning by holding on to one note for what seems was an enternity. Apparently, Selena wanted to get this song right so she practiced and practiced till, Suzette says, that Selena drove everyone crazy!
Bonus(es) for the re-issue: No Bonus Tracks are included in this one, NOR pictures as it states on the packaging. There is, however, the Dreaming Of You video which is nice, but it's not really Selena so there is only so much to like about it. Throughout the printed Liner Notes, all of the lyrics are printed along with informative text about the CD. And as with all of the albums, Liner Notes with A.B Quintanilla, Suzette Quintanilla, Mr. Abraham Quintanilla Jr, Pete Astudillo, and Ricky Vela.
CD Grade: A+