--------------------------------------------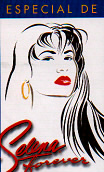 "TVyNovelas"
Ano 22, No. 8/ March 31, 2000/$1.95
COVER: "Especial De 'Selena Forever'"
STORY: "Selena Forever: Un Angel Que Abre Puertas" (6 PAGES)
Story Summary: 5th Anniversary of Selena's death, sees a tribute to her in this issue. The article talks about Selena's family today, the brand new musical based on her life w/ Actress Profiles. There is also an article on A.B and how he has succeeded with his Kumbia Kings.
--------------------------------------------
Back To Selena Magazine Gallery
--------------------------------------------