--------------------------------------------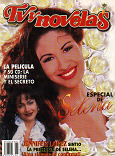 "TvyNovelas"
Ano 19, No. 6/March 1997/$1.75
COVER: "Especial De Selena"
Story: "La Pelicula De Selena" et al. (35 PAGES)
Story Summary: This is a Magazine paying tribute to Selena on the 2nd anniversary of her death. There Issue covers the movie with profiles on each actor with exclusive behind-the-scenes photographs. There is also articles on Selena's new CD "The Soundtrack" and some info on "Siempre Selena". And there is info on the TV Movie.
--------------------------------------------
Back To Selena Magazine Gallery
--------------------------------------------