--------------------------------------------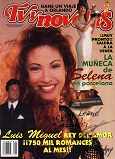 "TVyNovelas"
Ano 19, No. 20, September 29, 1997/$1.75
COVER: "La Muneca De Selena"
STORY: "Selena En Porcelana"
Story Summary: This story is about the release of the first Porcelain Statue in The Original Selena Porcelain Statue Collection. The first statue, "1994 Award Winner" is introduced here, by the creator Take Iseki, a Japenese Selena fan.
--------------------------------------------
Back To Selena Magazine Gallery
--------------------------------------------