--------------------------------------------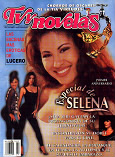 "TVyNovelas"
Ano XVIII No.7/ $1.75
COVER: "Especial De Selena: Primer Aniversario"
STORY: Various Stories (24 PAGES)
Story Summary: This is the first anniversary of Selena's death. The Magazine covers The rumors of Bibi Gaytan becoming Selena in a telenovela, and finding Selena's double for the big screen. There is also news on the Calendar, The Boutiques, and her resting place.
--------------------------------------------
Back To Selena Magazine Gallery
--------------------------------------------