--------------------------------------------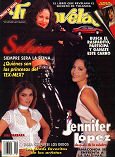 "TVyNovelas"
Ano XVIII No. 19/Sept. 9, 1996/ $1.75
COVER: "Selena: Siempre Sera La Reina...Quienes Son La Princesas Del Tex Mex"
Story: (19 PAGES)
1. Selena A La Pantalla
2. Jannifer Lopez
3. Selena Siempre Sera La Reina...
4. El Nuevo Disco De Selena
Story Summary: This Issue covers who are the most popular Tejano Artists after Selena. Also, their is coverage on the release of "Siempre Selena" and Jennifer Lopez will be Selena on the big screen.
--------------------------------------------
Back To Selena Magazine Gallery
--------------------------------------------