--------------------------------------------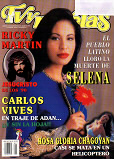 "TVyNovelas"
Ano XVII, No. 9/ May 1, 1995/$1.75
COVER: "El Pueblo Latino Lloro La Muerte De Selena"
STORY: "Homenaje A Selena" (4 PAGES)
Story Summary: This story takes the reader to Corpus Christi TX for the memorials in tribute to Selena, there is also coverage of the closed casket visitation for Selena and the Burial service. There is also mention of Selena's Cinematic debut in "Don Juan De Marco", and the success she has received with her recordings.
--------------------------------------------
Back To Selena Magazine Gallery
--------------------------------------------