--------------------------------------------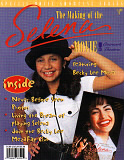 "The Making Of The 'Selena' Movie"
Spring 1997/$4.99
Stories: (46 PAGES TOTAL)
1. Getting To Know Becky Lee
2. How it all Started
3. Becky's first experience in Hollywood
4. Before the Lights! Camera! Action!
5. Becky's first day playing the part of Selena!
6. On The Set
7. Away From The Set
8. Memories of playing Selena
9. Where will this dream take me?
Story Summary: This magazine was sold at concession counters at movie theaters playing "Selena". The magazine takes the reader through the making of "Selena" from the point of view of Becky Lee Meza who played Little Selena in the movie. There are also many behind the scenes photographs scattered throughout the magazine.
--------------------------------------------
Back To Selena Magazine Gallery
--------------------------------------------