--------------------------------------------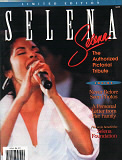 "The Authorized Pictorial Tribute"
July 1995/$4.99
Cover: "Selena: The Authorized Pictorial Tribute"
Stories: (47 PAGES TOTAL)
1. Reaching For The Stars
2. Through A Child's Eyes
3. Her Loyal Fans
4. Backstage With Selena
5. On Stage
6. Memories Of Selena
7. Her Music Lives On
Story Summary: This is a Magazine that Selena's family put out to celebrate their daughters life. It is filled with pictures of Selena, signing autographs, performing and more. Introduction articles in the beginning of each section are given with information relating to that specific section. One of the best Collectible Magazines available. Proceeds of the Magazine went to The Selena Foundation.
--------------------------------------------
Back To Selena Magazine Gallery
--------------------------------------------