--------------------------------------------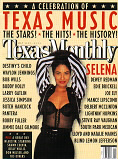 "Texas Monthly"
Vol 28, Issue 5/May 2000/$3.95
COVER: "A Celebration Of Texas Music: Selena"
Story: "Tuned Out - Why The Tejano Music Industry hasn't recovered from the death of Selena" (3 PAGES)
Story Summary: An interesting article which investigates why Tejano Music seems to be in a slump. The writer points out that 5 years after Selena's death she is still charted on Billboard Magazine, which is something that no other Tejano Artist is doing. Also, the fact that its not Tejano Music , but Selena that is selling is revealed.
--------------------------------------------
Back To Selena Magazine Gallery
--------------------------------------------