--------------------------------------------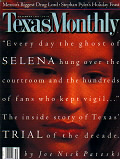 "Texas Monthly"
Vol 23, No. 12/December 1995/$2.95
COVER: "Selena Trail"
STORY: "The Sweet Song Of Justice" (8 PAGES)
Story Summary: Detailed Coverage of The Selena Trail verdict, and all those that were effected by it. Comparisons to the O.J Trail are given, and fan celebrations outside the courtroom when Selena's killer was sentenced to life in prison.
--------------------------------------------
Back To Selena Magazine Gallery
--------------------------------------------