--------------------------------------------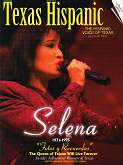 "Texas Hispanic"
Vol. 5 No. 26/April - May 1995/$10.00
COVER: "Selena 1971-1995,"Fotos Y Recuerdos" - The Queen Of Tejano Will Live Forever"
STORY: "The Tejano Queen: Fotos Y Recuerdos" (18 PAGES)
Story Summary: A Simple Tribute to Selena, contains photographs of Selena from different stages of her life at the Tejano Music Awards. Has fellow artist reactions to the news of her death. And There is a special message from Selena's father to her fans. There is also a special page of Texas Reflections of Selena, in where it is read that George W. Bush proclaimed April 16, 1995 "Selena Day"
--------------------------------------------
Back To Selena Magazine Gallery
--------------------------------------------