--------------------------------------------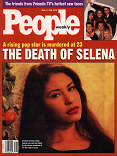 "People Weekly" (1995)
April 17, 1995/$2.49
COVER: "THE DEATH OF SELENA - A rising pop star is murdered at 23"
STORY: "Before He Time" (6 PAGE SPREAD)
Story Summary: One of the first tributes to Selena, this article tells the events of March 31, 1995 and the following days after. It gives a brief look at Selena's entire life and what happened on that day with an interview with her father. Fan's reactions are also accounted for in this story, including the 50,000 that attended her closed casket visitation from as far away as California, Canada and Guatemala.
--------------------------------------------
Back To Selena Magazine Gallery
--------------------------------------------