--------------------------------------------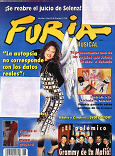 "Furia Musical"
Ano 6, Num 6/ March 31, 1998/ $1.75
COVER: "Recordando a Selena Tres Anos Despues"
Story: Various Stories (39 PAGES TOTAL)
Story Summary: This Third Anniversary tribute Issue, shows where Selena's family is now, the New "Anthology" album with all track listings and descriptions in Spanish. Also coverage of the unveiling of Mexico's Selena statue. The announcement of the opening of the Selena Museum, and many interviews with family and fellow artists.