--------------------------------------------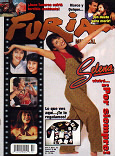 "Furia Musical"
Ano 5, No 10/ $1.75
COVER: "Selena: Vivira Por Siempre!"
Story: "Selena Lanza A La Fama A Jennifer Lopez", et al (11 PAGES)
Story Summary: This Magazine features full coverage over the Selena movie. It has articles taking readers behind the scenes of filming, with details of Jennifer Lopez' transformation into Selena. Also, there are articles about Selena's father and his thoughts twoard the movie.
--------------------------------------------
Back To Selena Magazine Gallery
--------------------------------------------