--------------------------------------------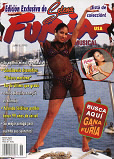 "Furia Musical"
Ano 3, No. 14/July 5, 1995/$1.75
COVER: "Edicion Exclusiva De Selena"
Stories: Entire Magazine Is Dedicated to Selena. (66 PAGES)
Story Summary: This Magazine contains many memories of Selena with Furia Musical, every single picture in this magazine was with Furia Magazine. There are stories about the tragedy, about her life and career. There are also interviews with friends, relatives and Selena as well from previous Issues, where she was featured inside but not on the cover.
--------------------------------------------
Back To Selena Magazine Gallery
--------------------------------------------