--------------------------------------------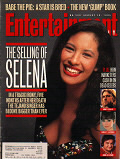 "Entertainment Weekly"
No. 288, August 18, 1995
COVER: "The Selling Of Selena - In A Tragic Irony, Five Months After her Death the Tejano Singer has become bigger than ever.
Story: "Selena Born Again" (5 PAGES)
Story Summary: The Success of "Dreaming Of You", The New Movie based on her life that is in the works and the explosion of business at the Selena Etc Boutiques are discussed in this nice tribute article. There is also updates of Selena's family, friends and fans.
--------------------------------------------
Back To Selena Magazine Gallery
--------------------------------------------