--------------------------------------------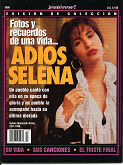 "Enterese!"
May 1995/$1.95
COVER: "Fotos Y Recuerdos De Una Vida...ADIOS SELENA"
Stories: (66 PAGES TOTAL)
1. Adios A Selena
2. Saludo y Despedida
3. Selena y Su Familia
4. Cronologia Artistica
5. Premios y Reconocimientos
6. Discographia
7. Los Exitos Musicales de Selena
8. Selena en Puerto Rico
9. Selena y El Cine
10. Selena Disenadora
11. "Toda mi Vida ha Sido un Sueno"
12. Lagrimas, estupor, e ignorancia
13. Tributo Musical
14. De Vuelta en Primer Lugar
15. Su Recuerdo Sigue Vivo
16. Selena y sus Suenos del "Crossover"
17....En Sus Propias Palabras
18. Quien Ocupara Su Lugar?
19. El Insulto De Howard Stern
20. Crimen y Castigo
21. Una Obsesion Malsana
22. Poema A Selena
23. Selena renace como Mito
24. Duel popular
23. Siempre te Recordaremos
Story Summary: This all B&W Magazine features very loving tributes to Selena. They give her full discography, her dreams as a fashion designer, her dreams at becoming a corssover star, her closeness to her family, and interviews that were given to Selena prior to her death. The enitre magazine is about Selena.
--------------------------------------------
Back To Selena Magazine Gallery
--------------------------------------------