_________________________________
Selena Triumphs in Central and South America:
In 1992, Selena's EMI Mexico debut album "Baila Esta Cumbia" was released. While the album contained 12 tracks that were compiled from previously released U.S material, for Mexico it was fresh new music. It was this same year that EMI Latin arranged a press conference in Mexico for Selena. Everyone was nervous that day since Selena could not speak Spanish 100% and Mexico simply does not like Mexican-American signers. Should Selena mess up, the press would eat her up alive. Selena had more confidence than the others, she walked out into the press conference room and greeted all the reporters with a hug and a kiss on the cheek. While Selena did mess up a lot with her Spanish when she was answering questions, the press took a liking to her. "She had them in the palm of her hand", her father said.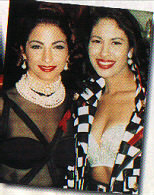 Above: Selena posing with Gloria Estefan in the 1992 "Premio Lo Nuestro" awards.
That same year Selena would find incredible success waiting for her in Mexico.
The song's Baila Esta Cumbia, Ven Conmigo, La Carcacha and Como La Flor became hits in Mexico, and the album turned Gold which was a feat that no other Tejano Artist ever was able to accomplish in Mexico...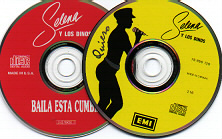 Above: The CDs "Baila Esta Cumbia" and "Quiero..." allowed Selena
to dominate the Tejano Music scene in Mexico starting in 1992.
Selena's most memorable concert happened in 1992 as well, in Nuestra Gente Magazine (1994), she said, "The most memorable [performance] was the first time we played in Mexico. It was astonishing. It was in Monterrey, Nuevo Leon and there were 100,000 people. It was a sea of people. The fans waved their hands in the air like in the videos. Seeing people do that to the rhythm of your music is incredible. Everyone knew the lyrics to "Como La Flor".
Selena soon followed up her debut album with "Quiero...", another compilation that was released in 1993. This album once again turned into instant gold, and Selena's music was now reaching the airwaves in Central and South America where she was just as popular. Selena now dominated the Tejano scene in Mexico, and soon after, other Tejano acts where now coming in and finding success in Mexico.
_________________________________
Selena Quintanilla Perez: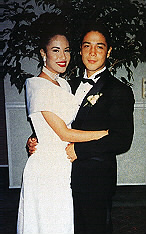 Above: Selena and her husband Chirs Perez
at Suzette's wedding in 1993.
On April 2, 1992, Selena married her guitarist Chris Perez at the age of 20, against the objections of her parents. The Quintanilla's were very frim believers in the Christian Faith and teachings, and they took marriage seriously. Her mother told Selena that marriage is not a game, that it is a very important commitment in the eyes of God. And that when you get married it's forever. Selena's father also objected to the marriage because he thought that his daughter was too young, and maybe down the line she would meet someone else that they love more. But he said that Chris himself was what made him change his mind. He was a very kind person, and he soon felt as if he was his son as well.
Selena Quintanilla Perez stayed happily married, and was going to start a family at the time of her death in 1995.
_________________________________
Selena would become a world-wide success:
1993 would bring Selena great success...
First on February of 1993, Selena gave a free concert performance in Corpus Christi's Memorial Coliseum. That night she would record her album "Live" which once again received great success. The sales of the album were skyrocketing, and she still was not a her professional peak. Multiple award nominations were being bestowed upon her for "Live", including her first Grammy Award Nomination.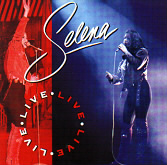 Above: Selena's "Live" (1993) would achieve great success and a Grammy Nomination
Selena would also win her first Premio Lo Nuestro (Latin Music's Grammy at the time), in 1993. She was nominated for Best Female Artist of The Year, Best Song Of The Year ("Como La Flor") and Best Album of The Year ("Entre A Mi Mundo"). She won all three of them. Which was very surprising to her since she was very certain that her chances where slim because she was up against so many of the most famous latin artists that have been known for many more years than she was.
1993 would also bring Selena one of the happiest moments of her life. She signed a world-wide contract with SBK Records to finally begin production on her crossover album. SBK, a sister label to EMI Latin, signed Selena as the third Latin star who was being launched into World-Wide Success. The process for doing an English language album was a very hard transition for Selena, she explained in 1994 that "making a Tejano Album usually takes about 1 week...But with an English album it takes 6 months to a year..."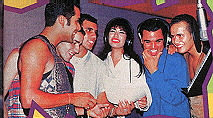 Above: Selena and The Barrio Boyzz recording "Dondequiera Que Estes" in 1993.
That year, Selena was paired with The Barrio Boyzz to do a duet to be able to have Selena become better known in New York, where Tejano music was not yet popular. Their song "Donde Quiera Que Estes", went to #1 on Billboard and Selena was now more widely known in the U.S.
Selena had accomplished so much, but the best year of her professional life was yet to come...
_________________________________
Selena Wins The Grammy, a Television Role & Triumphs with an "Amor Prohibido":
Selena was now above all other Tejano Artists. She was the highest selling and paid Tejano Artist. However Selena still had not achieved the highest honors in her career. In 1994 she did...
In February 1994, the 37th Annual Grammy Awards were held in New York City's Radio and Music Hall. Selena was nominated in the Best Mexican American Album Category for her smash album "Live". That night, Selena's name would be read off the winning envelope and she walked on stage to receive the Grammy Award. She became the first Tejano Artist to ever to win a Grammy.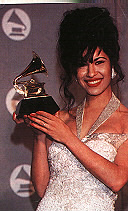 Above: In Feb 1994 Selena became the first Tejano Artist ever to win a Grammy Award.
She won her Best Mexican American Album Grammy for her album "Live" (1993)
Below: "Amor Prohibido" (1994) would forever be remembered in Latin Music history.
The album received Selena's second Grammy Nomination and went Double Platinum in less than a month of release.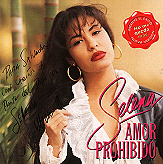 That same year, in March, what would be her last album in life was released, "Amor Prohibido". This CD which consisted many of Selena's most famous songs such as: Bidi Bidi Bom Bom, Techno Cumbia, and the title track to name a few. The album launched to #1 on the Billboard Latin 50, the first time Selena ever accomplished that. The album defeated Gloria Estefan's album which was released the same week. As if that weren't enough, the album became double plantinum with a month of release and multi-platinum shortly after that. "Amor Prohibido" has become what many consider Selena's "signature album". It was later nominated for another Grammy Award.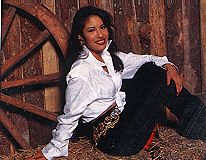 Above: Selena on the Soap Opera "Dos Mujeres Un Camino".
She was to have appeared on "El Premio Mayor" but her death prevented it.
Selena also debuted on T.V as an actress, on the Mexican Soap Opera "Dos Mujeres Un Camino" which broke records and became the highest watched soap in history. She played herself, but single, who fell in love with Ramiro, a member from Bronco. Selena also was to have a role on "El Premio Mayor", but unfortunately she did not live to be able to be on the show. In the opening episodes of "El Premio Mayor", which were filmed before her death, they showed a young woman listening to her music talking about her dream to visit Corpus Christi to meet her favorite singer, Selena. After she died, the storyline was simply dropped.
_________________________________
Selena's Involvement with Youth Education and The Community:
Through all of her success in the Music World, Selena still felt it was important to find time to encourage children and youth to stay in school. She spoke many times in school's about the importance of getting a High School diploma and achieving your goals. She also did a public service video for school's entitled "Mi Musica", which was sponsored by Selena's sponsor Agree Shampoo. In the video Selena spoke about Mexican Music in America, but left them an important message that staying in school and graduating high school is the most important thing that they will do in their life.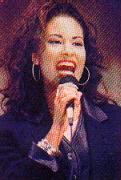 Above: Selena constantly supported and rewarded kids who improved their grades
by performing for them. Like she did above, in 1994.
Selena also rewarded children who have improved in their academics. In 1993, Selena performed for free to Texas students who drastically improved on their grades, and donated $2,500 to School Programs. Selena also participated at many "Stay In School Jamborees", her last being in March of 1995, just two weeks before her death. She expressed her excitement at the turnout, "It shows that kids want to do something good for themselves..."
Selena also supported and was a spokesperson to the D.A.R.E program to keep kids off drugs and a Battered Woman Help Hotline. Its been said that when Selena's commercial for the help hotline aired, the phone lines would light up. Selena was definatley not a normal artist, who was only preoccupied with her success. She really cared for people and that's why people cared so much for her.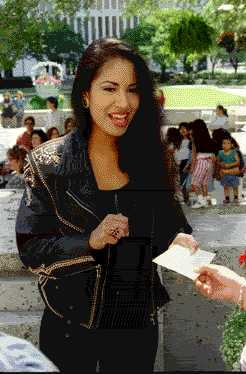 Above: Selena signs autographs in Houston City Hall on "Selena Quintanilla Day"
Her Community Services were honored on April 8, 1994 when the mayor of Houston proclaimed that day "Selena Quintanilla Day"
_________________________________
Selena Etc, Inc:
1994 also saw Selena live out her second dream to become a business woman/fashion designer. Selena opened three businesses: Selena Etc Inc, in Corpus Christi and another in San Antonio, both are boutiques and salons, and Selena Design House, Inc the company that manufactured Selena's line of clothes.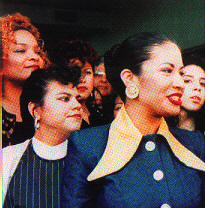 Above: Selena at the opening of her second boutique in San Antonio
in October of 1994
Selena never gave up her dream to become a fashion designer, she always made the outfits her group wore on stage. Selena's main goal for her clothes line was to be able to drop the price point for the average consumer and to have national chains of stores carry her clothes. The manager of the boutiques was the same person that started up the Selena Fan Club back in 1991, she was in charge of all financial duties from both the boutiques and the Fan Club.
_________________________________
Selena, On The Verge of Everything She Ever Wanted:
At the end 1994, Selena began to record her English crossover album for SBK Records. She had selected 13 tracks that she felt expressed her the best. Everything she touched turned into Gold: all of her albums have turned at least Gold Records Status, her boutiques were flourishing and she was thinking of opening a Mexico outlet, and her fan club was growing at a fast pace. And she was ready to start a family, and have children.
The Latin world was in high anticipation to see Selena become the next Gloria Estefan, it was only a matter of time...
Unfortunately, betrayal and violence, forever froze the clock for Selena at the age of only 23...
_________________________________
Go To Section V of Biography Of Selena Quintanilla-Perez
_________________________________
NOTE: All information above was taken from press materials, and is believed to be accurate. If you see something that you know is NOT accurate, please email me
-------------------------------------------------------------
Hop To:
Home / Selena Bio / Selena Discography - CD Gallery / 20 Years Of Music Celebration / "Selena" (1997) / "Selena, A Musical Celebration Of Life" (2001) / Selena Lyrics Archive /
Selena Magazine Gallery / Selena Collector's Guide / Selena Picture Gallery / Corpus Christi, TX Virtual Tour / Selena Fan Club / The Selena Foundation /
-------------------------------------------------------------