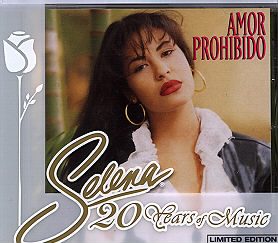 Buy This CD. Hurry, it is a Limited Edition!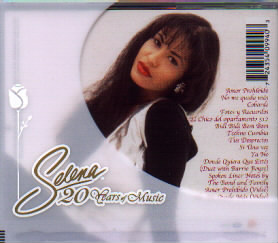 "Amor Prohibido"
Tracklistings: 1.) Amor Prohibido 2.) No Me Queda Mas 3.) Cobarde 4.) Fotos Y Recuerdos 5.) EL Chico Del Apartamento 512 6.) Bidi Bidi Bom Bom 7.) Techno Cumbia 8.) Tus Desprecios 9.) Si Una Vez 10.) Ya No 11.) Donde Queira Que Estes 12.) Spoken Liner Notes By The Band And Family
Background: The album was released on March 24, 1995, almost exactly one year before her death. The biggest, and best, release Selena ever did in life. This 1994 album solidified Selena's position as the number one female latin singer in the United States. It was at this time that Selena was one of the two Latin singers that was among the top 200 most popular artists in America.
Review: This is Selena's strongest album with every single song a terrific gem.
First, the best 3 of the 10 original tracks: Amor Prohibido, No Me Queda Mas, and Fotos y Recuerdos. The title track is a cumbia with an incredible beat and rhythm. I personally think that this is Selena's calling card, not Como La Flor despite that one being the first real major hit for Selena. No Me Queda Mas is a terrific slow ranchera song that benifits greatly from Selena's versatile voice. There are two versions of this song: the original, and the newer version. The former is softer and sweeter, while the latter (the one on this CD) is more passionate. Each has their highpoints, but I personally prefer listening to the original overall (it is available on All My Hits - Todos Mis Exitos).
Fotos y Recuerdos occurred, according to A.B, when he ran out of material for the album, and the deadlines were fast approaching. While he was at an airport the Pretender's "Back On The Chain Gang" came on the speakers and he thought that it would make a terrific cumbia. The rest is history. The song is sweet, simple but is very catchy. This one can be listened to again and again.
Bidi Bidi Bom Bom, written by Selena, originated from a song that Selena improvised on stage for sound checks before concerts (Itty Bitty Bubbles was originally the "title" lyrics). This is a fun care free cumbia, existing just for the sake of existing. It is because of this, that it has become a Selena classic. After Bidi Bidi Bom Bom, comes Techno Cumbia. This is one of the hippest things that Selena did in her career, and it did briefly show in what direction she was headed with her never recorded Spanish album that was to follow in 1995. Ya No is better than Techno Cumbia, and proved that Selena had the capability of competing with ANY artist of Latin Rock.
Rounding off this well-rounded album are a conjunto style song (Tus Desprecios), the cumbia's El Chico Del Apartamento 512 and Cobarde and the Ranchera-Cumbia Si Una Vez. All of which are incredible.

Bonus(es) for the re-issue: As a Bonus Track, EMI has included "Dondequiera Que Estes". Throughout the printed Liner Notes, all of the lyrics are printed along with informative text about the CD. There are also pictures of Selena from 1994. Two videos: Amor Prohibido and No Me Queda Mas. And as with all of the albums, Liner Notes with A.B Quintanilla, Suzette Quintanilla, Mr. Abraham Quintanilla Jr, Pete Astudillo, and Ricky Vela.
CD Grade: A+